»
Moose: professor of dirt.
…On that day in South London, when Moose asked the officers what crime he was being charged with, confusion ensued.

"We're arresting you for criminal damage," Moose recalls one of the officers telling him.

"The only thing I've damaged is dirt," the artist replied.

"They took that on board," Moose says. "They were really fumbling around."

Then the police told him that he had made marks on the wall. "I explained that the marks were made by pollution. If they wanted to arrest the perpetrators of this crime, they should get with the people who had created this pollution."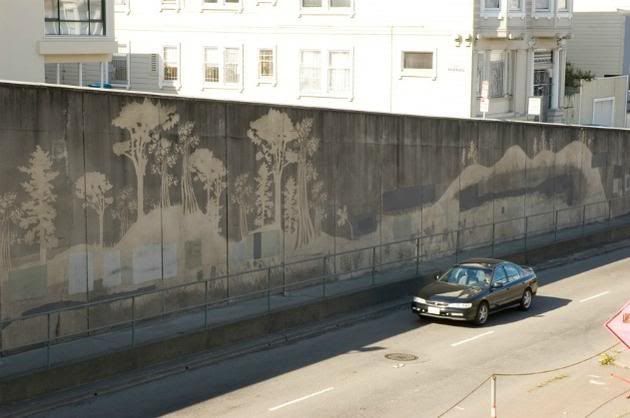 Broadway Tunnel in San Francisco, 04.2009.
"The environmental message [in my art] is unavoidable," he says. "I'm writing in grime."

A while back, Moose teamed up with a pack of eco-warriors with Greenpeace. They piled into a zodiac raft, armed with pressure washers, and buzzed across the Thames River to a blackened retaining wall near the House of Parliament. When they'd finished their work, the wall was emblazoned with the message:

"DON'T CHANGE THE CLIMATE. CHANGE THE POLITICS."
Dr. Dirt: Street artist scrubs images into the urban landscape.
grist.org, 04.11.11.