What is Urban Design?
an assignment for my urban design practicum course.
Urban design is not a single specific specialized field like nano engineering, but rather it encompasses many disciplines and requires the ability to synthesize all of them together. The 'urban' part tells of the setting—cities and areas of relative high concentration of human population. 'Design' is the action to be made upon urban environments. The goal of urban design is to create better places that enrich human experiences.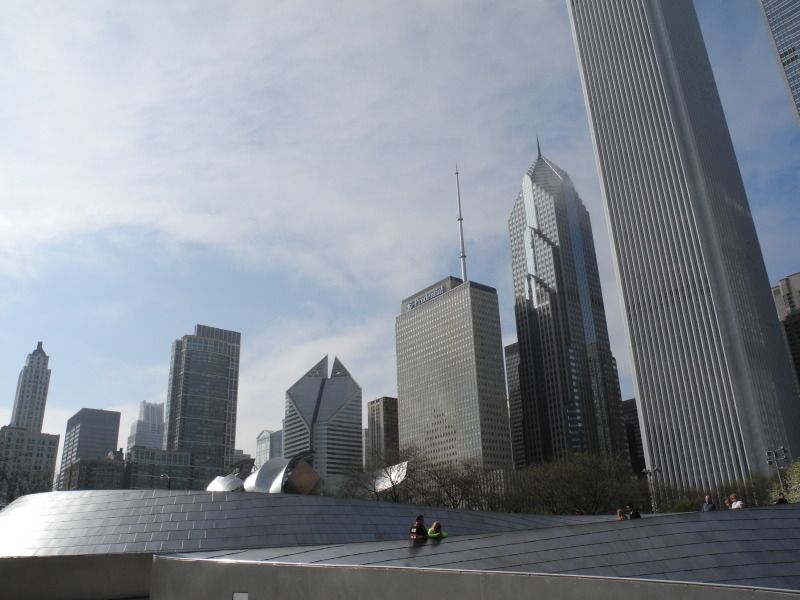 the serpentine pedestrian bridge that also serves as a noise barrier, designed by frank gehry. millenium park, chicago. 25.03.12.
The urban environment, in my view, consists of everything in a city—from physical buildings and streets to the people and the atmosphere. Urban design of course does not involve directly designing people's behaviors and controlling what feelings are generated. But it concerns the built physical environment and its relationship to people and the non-physical. 
Madanipour[1] states that "urban design can therefore be defined as the multi-disciplinary activity of shaping and managing urban environments, interested in both the process of this shaping and the spaces it helps shape." 'Shaping and managing urban environments' necessitates application of the fields of planning, policy, architecture, design, landscape design. Thus, urban design draws on various specialized fields and connects them all together. It is not just designing parks and buildings, but also shaping how these in turn affect other spaces and people's lives.
There is private space and public space. Often, these overlap. Large office buildings are required to save a portion of space for public use, or contribute money for public art, etc. Malls are privately owned but seem like a public space in areas outside of storefronts. Nevertheless, public space is supposed to serve as a place for human activity, provide shelter, and communicate meaning. These spaces include areas between private buildings, streets, facades, parks, and more.
The objective of urban design is to create quality public space that enable it to fully serve its functions. The urban environment should facilitate human interaction, fill the basic human need for safety and shelter, and have some meaning. An example is Millennium Park in Chicago, where the famous "Bean" sculpture invites otherwise random strangers into one concentrated spot. There are chairs and benches in the area for people to rest their feet. The warped and changing reflection from the silver sculpture leads people to look at the Windy City differently and maybe further contemplate meanings of it. 
More broadly, "urban design is about creating a vision for an area and the deploying of the skills and resources to realise that vision (Llewellyn-Davies, 2000:12)[2]." Urban design goes beyond basic design and building a park or other space, it entails seeing the larger picture of the potential effects the space has on its users and other elements. Implementing the vision, the design, requires cooperation with policymakers, property owners, citizens, construction workers, and other hosts.  
The third function of public space, that it should have some meaning, is the most intangible. But what I take from this, is that it should be a reflection of something—history, culture, etc. A meaning ascribed by the designer or architect, or a reflection of the users of the space. For instance, a skyscraper can be a show of money and power by a corporation, or a house the reflection of the resident's tastes. A park with colorful murals can be a reflection of the surrounding Mexican neighborhood. The built environment is a reflection of its creators, of a culture. 
Urban design attempts to create meaning, either new or existing. It seeks to create functional places where people can do things, be safe, and have a deeper connection to. It creates images that contribute to the greater neighborhood, to the larger city and its inhabitants. 
[1] Madanipour, Ali. Chapter 2, "Ambiguities of urban design". Urban Design Reader. London: Elvsevier, Architectural Press, 2007. p.22.
[2] Lang, Jon. Chapter 1, "The public realm of cities and urban design". Urban Design: A Typology of Procedues and Products. London: Pearson Press, 2005. pg.6.
Dianne Yee 17.04.12
for USP177, UCSD 
(Source: citymaus)