The Bike Plan — Three Years Later
Three years ago today, bicycling history was made in San Francisco. On June 26, 2009, the Bicycle Plan was at the top of the agenda at City Hall and the SF Bicycle Coalition members showed up in force to get the job done. SFMTA Board members listened to over three hours of testimony from more than 200 supporters, including mothers with children in tow, business owners, health workers, city department heads and students who packed the hearing room and an overflow room.

The outcome: the adoption of a new Bike Plan, and approval of 45 bike network improvement projects all in a single day. This victory was the result of the powerful testimony and more than three years of strong SF Bicycle Coalition advocacy, including dozens of volunteers going door-to-door to collect more than 150 letters of support from businesses, thousands of individuals sending support letters and signing petitions, and countless hours of grassroots organizing by committed SF Bicycle Coalition volunteers and staff. Together, we did it! Browse some great photos from the victorious day.

Since then the City has implemented over 20 miles of new bike lanes, installed over a thousand bike racks (and more than twenty-five on-street bike parking corrals), set out green pavement in bike boxes, sharrows, and along Market Street separated bike lanes, and much more. Having trouble keeping up? Check out our One More Link page to review all the bike network projects that have been implemented so far, take a look at what's coming up, and share your joy and appreciation with Mayor Lee and SFMTA chief Ed Reiskin. What's your favorite new bike lane? How has better biking on better bikeways improved your life? Where do we go next? Anything is possible with active engaged members and a great city for bicycling! Thank you for all your work, and don't forget to thank your city leaders.
from the SFbike newsletter.
SF and SFbike.. <3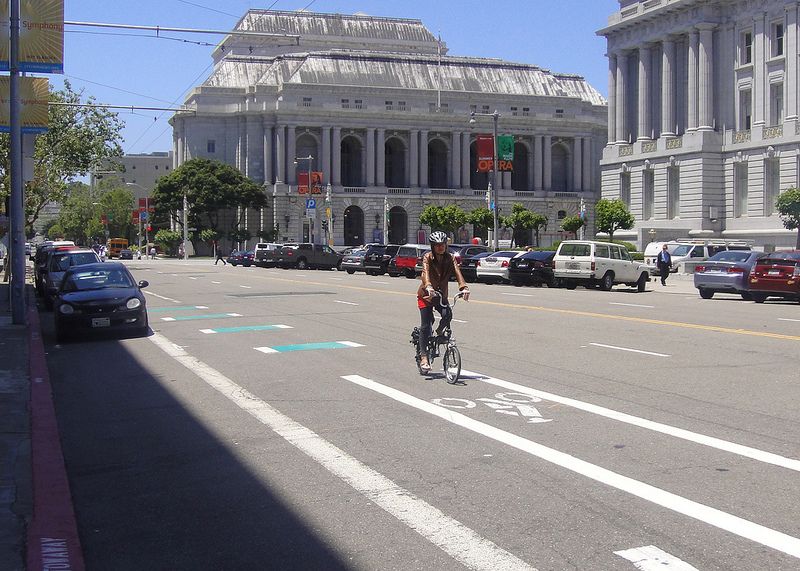 Dashed green pavement treatment on Grove Street bicycle lanes approaching Polk Street.
mainelyplanning likes this
lizguerra reblogged this from citymaus and added:

Amazing, San Francisco here I come!

citymaus posted this