San Francisco bike-share plan's wheels spinning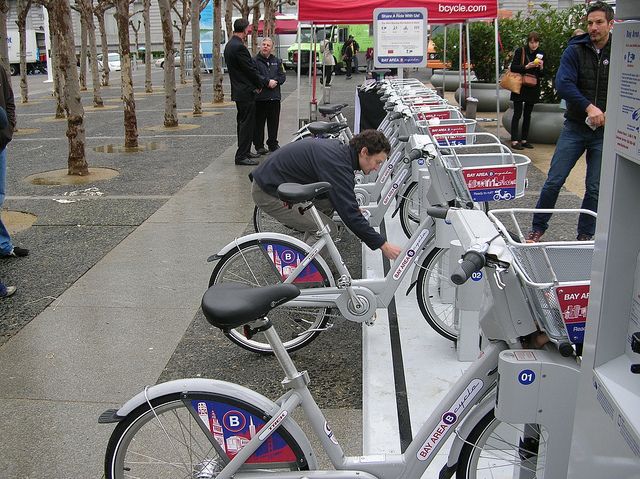 bcycles at bikeshare demo in SF, 12.2012.
…by April for Bike to Work Day, and when that didn't happen, planners said the network would be set up in time for the America's Cup World Series events in August. Bike-sharing was touted as a key piece of the "People's Plan" — a series of transportation improvements for the America's Cup.

Because of lingering negotiations with Alta Bicycle Share, the vendor that will run the system, the program will not be up and running by the summer, said Ralph Borrmann of the Bay Area Air Quality Management District, the regional group overseeing the plan.

In 2010, the district was awarded a $4.2 million grant to install 1,000 bikes in the Bay Area, including 500 in San Francisco. Two years later, it has yet to be implemented.

Leah Shahum, executive director of the San Francisco Bicycle Coalition, said the stalled progress of the bike-sharing plan has been disheartening.

"It's just really surprising that a program that is so successful and popular in other cities has taken so long to get implemented in San Francisco," Shahum said. "Especially considering that we have the money in place."

Borrmann said the bike-sharing network will definitely be in place in time for the main series of America's Cup racing events scheduled for the summer of 2013. It is also possible the system will be implemented in time for the second World Series events of the America's Cup later this fall…
sfexaminer, 08.07.12.