Through Oakland mural project, a superhero is born.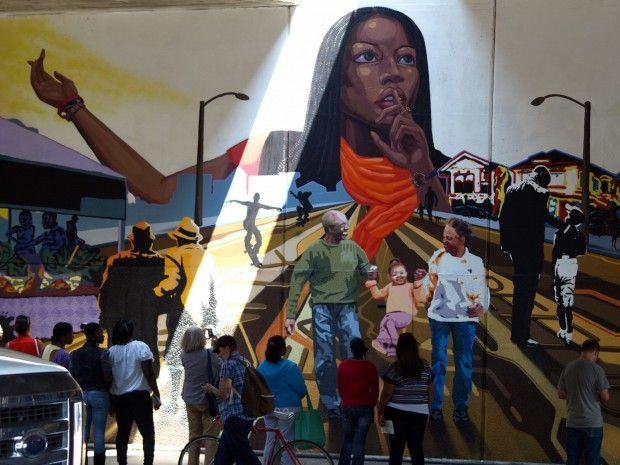 On Thursday, the Oakland Superheroes Mural Project, an initiative by the Oakland-based nonprofit Attitudinal Healing Connection (AHC) to revitalize and add beauty to some of the city's blighted areas, launched the first in a series of six planned street murals under the freeway bridge on San Pablo Avenue and 35th Street.

Working with students from McClymonds High School's 4th period art class, ACH commissioned the creation of a storyline and painting of the murals, which artists and students are using as a medium to tell stories about their experiences in the community.

In the mural, which took an entire school year and nearly $75,000 to put up according Phyllis Hall of the AHC,  15-year-old McClymonds High School student Umiika Rose is portrayed as Ja'Khi, a female superhero known as the "princess of knowledge."

…The third character is DJ Justice, described as a master of block parties who inspires unity and change. 
more: oaklandnorth, 13.07.12.
man, Oakland kids are awesome. 
Oakland is awesome.
so much positivity, the can-do-will-do attitude..
I feel so uplifted when I'm back.
..I'll be back this saturday! just in time for the Oakland Art & Soul Festival's first saturday night dance party! and volunteering at EBBC's valet bike parking. so find me there or on the dance floor! :) 
thirstinmore reblogged this from citymaus
citymaus posted this