Small refinery leak leads to big disaster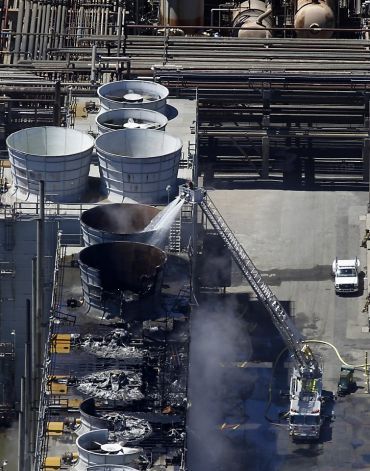 A fire truck continues to pour water on Chevron's Richmond refinery unit a day after a major fire that sent noxious black smoke into the air and forced nearby residents inside. Photo: Paul Chinn, The Chronicle / SF
Monday's fire at the Chevron oil refinery in Richmond began with a hydrocarbon leak so small that the facility's emergency response team at first thought it posed little threat to the community, a company representative said Tuesday.


…Now some union officials question whether refinery operators waited too long to try to stop the leak before it blew.

It's one of the questions that will be explored by regulatory experts who have sealed off the damaged unit pending an investigation into the latest fire to hit the 110-year-old refinery on Richmond's western edge. It is unclear exactly what steps Chevron took between discovery of the small leak, around 4:15 p.m., and the moment it ignited at 6:30 p.m.
sfgate, 08.08.12.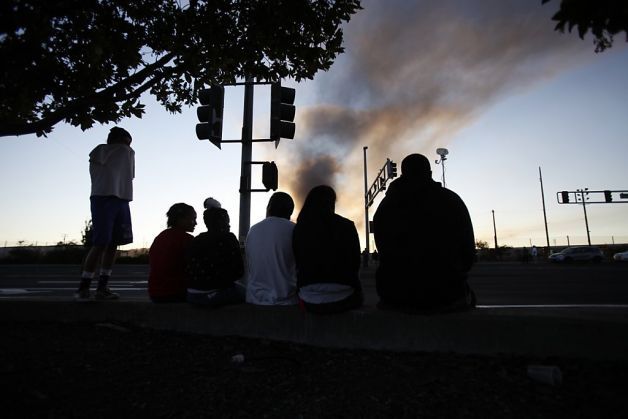 A group of teenagers watches smoke and fire from the Chevron Oil Refinery fire in Richmond, Calif. on Monday, Aug. 6, 2012. Photo: Stephen Lam
now every time i pass by a chevron gas station.. glad i don't own a car (but will my mom sell hers? she barely drives anymore but still has to pay a lot for insurance and monthly parking in a garage [oakland])
and every time i pass a shell gas station.. nope I don't support drilling in the Arctic