»
San Jose's New Buffered Bike Lanes Benefit Everyone
San Jose has just done something unheard of in Silicon Valley—the city converted car lanes on several blocks of 3th, 4th, 10th, and 11th streets in downtown, all busy one-way streets with 3 lanes in each direction—a total of 8 miles—to extra wide bike lanes separated by painted buffers from the remaining two lanes of vehicle traffic. What's going on?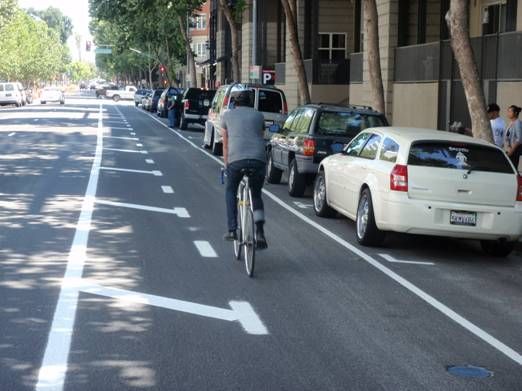 San Jose's new wide buffered bike lanes provide much more physical separation from vehicle traffic and parked cars than typical bike lanes.
The new buffered bike lanes are just the first examples of one of the most exciting elements of what the city's Bike Plan 2020 (adopted late-2009) calls "Primary Bikeways", which will comprise a network of enhanced cross-town bikeways (bike paths, lanes, and routes) featuring bike boulevards, green bike lanes, urban trails, and physically separated bike lanes…

Is it worth it? Of course bicycling would become more convenient, but how does that benefit everyone else? What about residents who might never even ride a bike?
read more: peninsula transportation alternatives, 15.08.12.
map of San Jose Bike Plan 2020.