"open" streets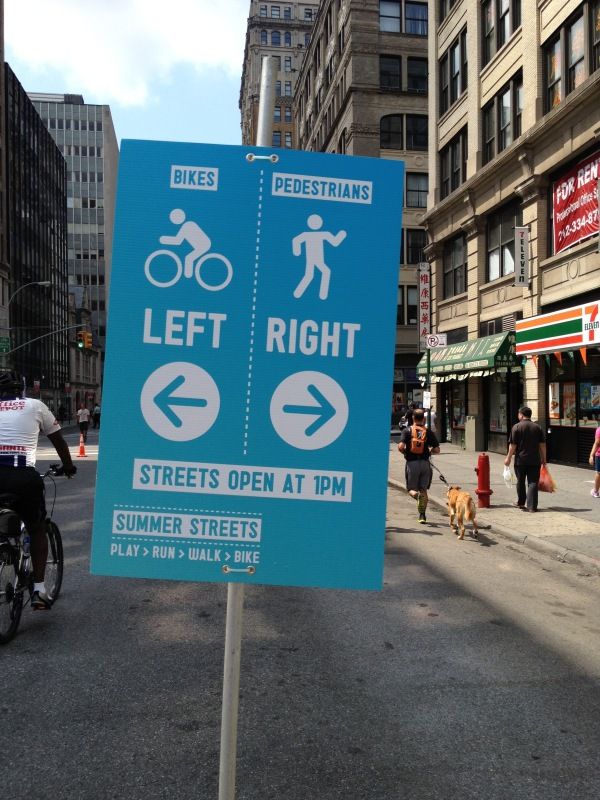 Several times I heard and read reference to the street being "closed," and at 1:00 I heard repeated announcements that they were going to "open it up again."

To someone like me, who rarely takes taxis and drives even less, when cars are allowed it doesn't feel "open" to me. It's open to me for three mornings a year, and pretty unavailable the rest of the time. Repeating over and over again that Park Avenue will be "opened up again" emphasizes that we don't belong.
— cap'n transit. summer streets: i want more! 23.08.11.
from the above sign alone, i would assume that "summer streets" begins at 1pm. open the streets up to people. and the sign looks more of a size for people who are walking and cycling by, not for drivers.
It's hard to not feel how "open" the streets are when you're having your picture taken in front of the statue of Cornelius Vanderbilt, a spot that is typically closed as far as pedestrians and cyclists are concerned.  It's the same way I feel about how people often refer to Times Square: the city didn't close it to traffic but rather opened it to people.  So if one of the points of Summer Streets is to serve as positive marketing for people-centric streets and the department's ambitious agenda, let's hope the next time a new batch of signs needs to be printed DOT changes the wording to say, "Streets re-open to motor vehicles at 1 PM," or even the completely neutral "Summer Streets ends at 1 PM."
brooklyn spoke, 17.08.12.
sf sunday streets in the mission. 01.07.12.
devenustate likes this
citymaus posted this