HAWK signals
mandicreally reblogged your video: Pedestrian Decoy Operation.
One of the best things Austin has is push button crosswalks.  Just random crosswalks(not at intersections) where you push a button and a red light turns on so you can cross the road.

Costly I am sure, but a great thing.

Now one thing I find bullshit here is, "We give them a warning flyer to tell them what their responsibility is".  Really THIS TIME Cops don't live by their rule of, "Ignorance of the law is no excuse".  Fucking ticket these people.
yeah! those are called HAWK signals! (forget what it stands for but..) 
HAWK signal: a traffic light that looks like it's turned off, but when a pedestrian or cyclist pushes the button or triggers the sensor to cross the street, the traffic light is turned on red so traffic will stop and people can safely cross the road.
costly, yes. awesome, yes. (though I haven't personally encountered one)
In Berkeley is there is upcoming plan for a HAWK signal at the intersection of Ashby and Hillegass. Hillegass is a north-south Bicycle Boulevard (residential street), and Ashby is a busy west-east street that is actually part of a highway. There is the Claremont Branch library on Ashby at Benvenue (one block east), on half the block between Benvenue and Hillegass. Southwest from here is the Alta Bates hospital and other medical offices.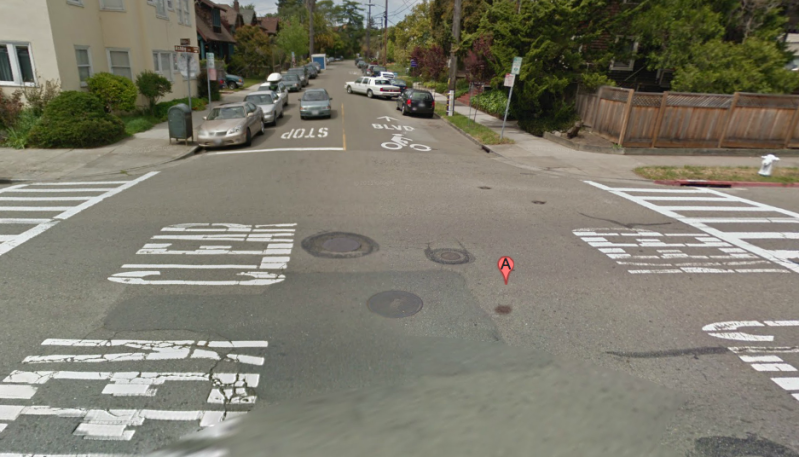 looking north on Hillegass Ave.
usually there's a lot of car traffic because of the traffic light two blocks away at Ashby/College so drivers aren't going that fast anyway, and Berkeley drivers are kind so it's really not that difficult to cross. but a HAWK signal would definitely make it more ped- and bike-friendly (esp. for a bicycle blvd).
and at least there are striped crosswalks already! (have yet to see those on Sixth Ave. in San Diego so people don't look and feel like they are jay-walking to go to Balboa Park.)
yeah, I agree. the signpost on the middle of the road clearly states it is the law to stop for pedestrians. a warning after that is kinda backwards.