police or driver trolls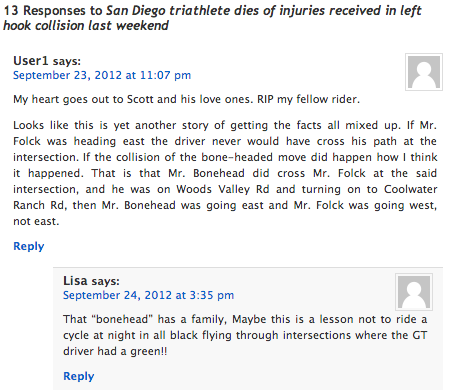 This "Lisa" is probably a family member of friend or the guy who hit Scott. First of all, is it illegal to ride a bike at night? Secondly, he was hit at 6AM. in the morning. Thirdly, nowhere in any news articles states he was wearing all black. Fourthly, Scott was going straight on a green, so the driver turning on green is supposed to wait and yield until clear to turn. 
read the story and more comments here. there was a memorial ride on friday, 28.09.12.
During July's Critical Mass in San Diego, a friend of mine, not cycling that night, was walking around the Gaslamp, when excited seeing CM ride through decided to high-five riders and pat them on the back. Unluckily, one of those riders was a police officer who snapped at the friendly pat-on-the-back and immediately threw him down hard on the ground and handcuffed him. Luckily now the charges against him have been dropped. But he posted about it after getting out of the officer's grip. One of the early comments:

This "Zasueda" is probably a rookie police officer exactly the opposite of what he likes to call himself. My friend did not do anything "milicous and interntional" or the correct spellings. He did not resist the officer at all, was quiet, very dejected-looking, and was only trying to keep his face off the ground so his glasses wouldn't get messed up.
anyway.. I think I was just going to show examples of trolls on serious stories like these. and the point that they suck and should not be ignored, their IP addresses recored and blocked, etc etc.