Oakland Mayor Quan unveiling her own 10,000-resident plan
"Oakland Mayor Jean Quan said Wednesday that she wants to attract 10,000 new residents to the city and build some 7,500 housing units to capitalize on the region's hot housing market. 
Previewing her Thursday evening State of the City speech, Quan said she will announce her 10K Two plan, a proposal similar to former Mayor Jerry Brown's successful and popular 10K blueprint that brought 10,000 residents to Uptown and downtown Oakland.
The 10,000 residents who arrived under Brown's plan are often credited with fueling the city's restaurant and bar boom. Now Quan said it is her turn to attract another 10,000 residents.
"Jerry's 10K was mostly focused in (Uptown and downtown)," Quan said. "We're all over the city. The funding will also be along the transit corridors."
Quan, who is facing a tough re-election battle this year, said the city has to act quickly to encourage investment and approve construction projects while young families and singles are still fleeing San Francisco and other expensive areas for the comparatively low rents of Oakland."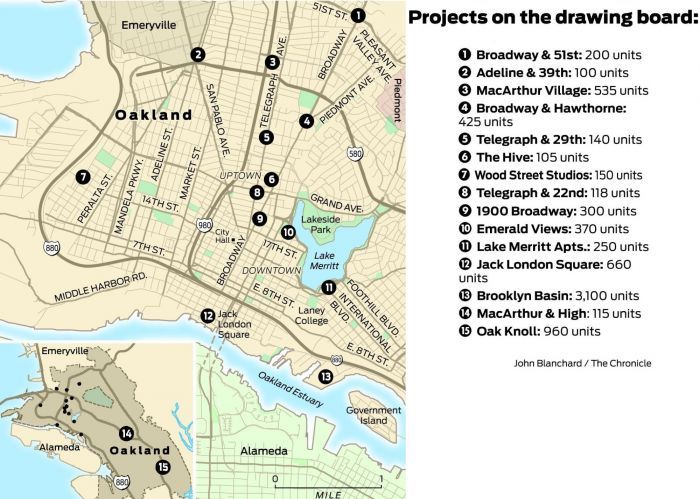 "Many longtime Oakland residents are worried that city officials might be so eager to attract new, wealthy residents that the community will lose its diverse, gritty character and become a playground for the rich and young, a complaint often voiced about San Francisco.
Fruitvale residents are already feeling the squeeze of high rents and housing prices, Najera said. Oakland saw rents and home costs rise faster than many other cities in the country last year.
Most landlords can now comfortably demand a high credit score and annual wages three times the rent and still find plenty of tenants.
"It is getting harder and harder every day for regular Oaklanders to be able to rent," Najera said, adding that many longtime residents are moving to Richmond, Stockton and other areas, often far-flung."
sfgate, 06.03.14.
increasing supply of market rate housing should keep lower-priced housing costs low, theoretically…