»
Oakland celebrates groundbreaking for renovation of historic California Hotel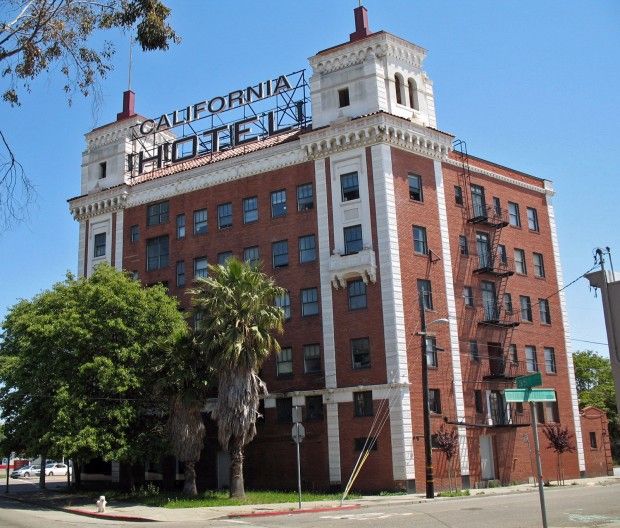 The California Hotel was a popular venue for acclaimed recording artist like James Brown, Ray Charles and Billie Holiday. Photo courtesy of EBALDC.
The California Hotel was built in 1929 and operated as a commercial hotel. It was one of the few hotels where blacks could stay and African American musicians could express their art. For nearly three decades, beginning in 1936, many African-American relied on "The Negro Motorist Green Book: An International Travel Guide" to help them decide where they could travel during an era of racial division. The hotel's ballroom was also famous for the celebrities who played there. From the '20s through 1971, the site boosted a "who's who" reputation, drawing jazz and blues greats who ranged from Fats Domino to Ike & Tina Turner as well as fans who came to listen and dance.

Mayor Quan: "…Remember all of the guys in West Oakland who were working on the railroad? They created the first African-American union in this country. They ran a campaign that said, 'We don't work at places where we can't eat and stay and become customers.'" She paused for more jubilation. "Among the high-class hotels, this became one of the first ones and they were so successful. I know you guys remember this—in the 50's—when no great jazz artist would come to Oakland without playing in the ballroom back there. How many of you remember that? It's wonderful to see this West Coast monument come back alive."

…East Bay Asian Local Development Corporation (EBALDC), a corporation that develops affordable housing, acquired the hotel for redevelopment in 2011. The group's plan is to turn the California Hotel into a place where local economic development can thrive. In addition to affordable housing, the redeveloped site will help bring community and commercial retail spaces nearby, organizers said, and offer non-profit services as well as community gardening…
oaklandnorth, 26.07.12.
yay! another restored building in Oakland! 
this is that building that you'd pass by all the time on the freeway from SF/north to Hayward east/south (580 south). so sad how freeways devastate communities.
now if San Diego would get its shit together and clean up that building on C st. by Fourth already. (…the homelessness problem would start getting solved, and along with a repaving around the trolley tracks on C st., that "downtown" area would start looking nice.)