Greenpeace works to detoxify fashion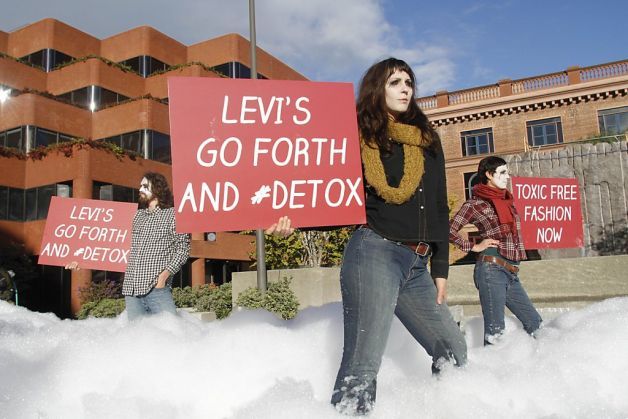 Greenpeace activists protest outside Levi's headquarters in San Francisco create a 'river' out of non-toxic foam, as part of a series of Greenpeace activities held in over 80 cities worldwide, demanding that Levi's commits to eliminating the use of all hazardous chemicals throughout its supply chain. The foam simulates the toxic water pollution caused by the Mexican textile factories that have been found to have links to brands including Levi's. Photo: George Nikitin, Greenpeace / SF
According to the Greenpeace release, "Levi's will begin requiring 15 of its largest suppliers, each with multiple factories in China, Mexico and elsewhere, to disclose pollution data as early as the end of June 2013" — an important development in nations without strict reporting requirements.

…Other substances Greenpeace found included benzotriazoles, tributyl phosphate and trichloroaniline, all toxic to aquatic life. At the Kaltex plant, Greenpeace said it found hexa (methoxymethyl) melamine (HMMM), which is moderately toxic to aquatic life, and two trichlorinated benzenes. The environmental group said that while these two persistent toxic chemicals are used as solvents and dye carriers, they are not exclusive to textile manufacturing and may have come from other sources.

"In studies of the textile industry in Mexico, Greenpeace found that Levi's suppliers have the worst water pollution," said Pierre Terras, a Greenpeace toxics campaigner in Mexico quoted in the report. According to Greenpeace, Mexico is the fourth-largest supplier of textiles and apparel to the U.S. market..
sfgate, 30.12.12.