»
After the Addition of Bike Lanes and Plazas, Manhattan Traffic Moves Faster
In Manhattan below 60th Street, predictions that reallocating space to walking, biking, and transit would only worsen traffic have not come to pass. In fact, average traffic speeds have picked up. GPS data from yellow cabs below 60th Street show that average speeds are up 6.7 percent since 2008. The average speed of a taxi trip, which was 8.9 mph in 2011, inched up to 9.3 mph last year.
After several blocks in the heart of Times Square were pedestrianized and protected bike lanes were added to five avenues in the middle of Manhattan, motor vehicle traffic is actually moving more smoothly than before, according to the latest release of NYC DOT's annual Sustainable Streets Index (SSI) [PDF].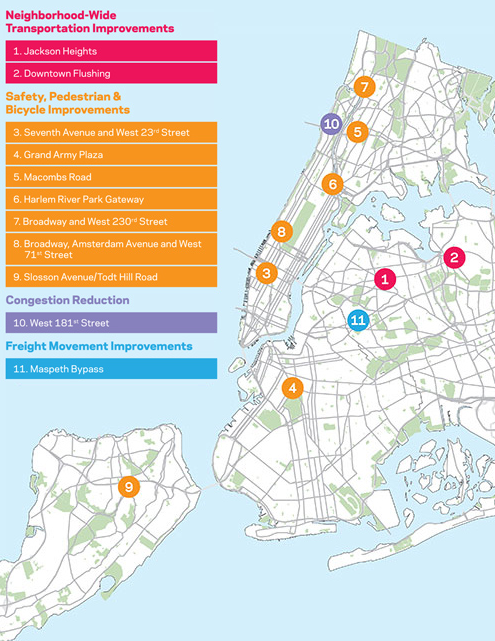 The Sustainable Streets Index is part of the city's PlaNYC 2030 sustainability initiative and builds on previous releases from 2008, 2009, 2010, and 2011. The report also includes before-and-after analysis of major street redesigns, as required by a city law enacted in 2008. This year's report includes ten of these projects, including parking reforms and plaza space in Jackson Heights and the redesign of Grand Army Plaza.
This is the final Sustainable Streets Index released by the Bloomberg administration, and it demonstrates the benefits of many of the street design innovations pioneered by NYC DOT under Janette Sadik-Khan. The next mayor has the opportunity to extend these benefits to more streets and more neighborhoods across the city.