»
The secrets of the world's happiest cities
Peñalosa insisted that, like most cities, Bogotá had been left deeply wounded by the 20th century's dual urban legacy: first, the city had been gradually reoriented around cars. Second, public spaces and resources had largely been privatised. … Children had largely disappeared from Bogotá's streets, not because of the fear of gunfire or abduction, but because the streets had been rendered dangerous by sheer speed. Peñalosa's first and most defining act as mayor was to declare war: not on crime or drugs or poverty, but on cars.

He threw out the ambitious highway expansion plan and instead poured his budget into hundreds of miles of cycle paths; a vast new chain of parks and pedestrian plazas; and the city's first rapid transit system (the TransMilenio), using buses instead of trains. He banned drivers from commuting by car more than three times a week. This programme redesigned the experience of city living for millions of people, and it was an utter rejection of the philosophies that have guided city planners around the world for more than half a century.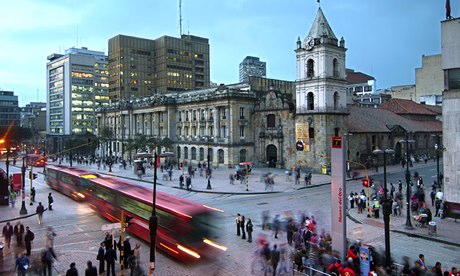 In the third year of his term, Peñalosa challenged Bogotáns to participate in an experiment. As of dawn on 24 February 2000, cars were banned from streets for the day. It was the first day in four years that nobody was killed in traffic. Hospital admissions fell by almost a third. The toxic haze over the city thinned. People told pollsters that they were more optimistic about city life than they had been in years.
continuing reading.. about commute times and mode choices' effect on happiness: theguardian, 01.11.13.